eXtremeManQ30 Kaposvár Race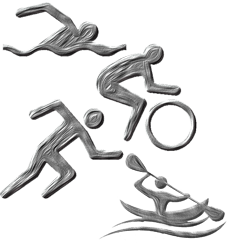 eXtremeManQ30 Kaposvár
Quadrathlon World Cup race
Competition date and time:
June 23, 2018, start: 11 am
Organizers of the competition: Attila Péter, the Kaposvár Freetime Association, Nagyatád Triathlon and Leisure Sport Association and Attidas Kft.
Race distance:
30 km, quadrathlon sprint distance (Swimming: 0.75 km; Cycling: 20 km; Kayak: 4.25 km; Running: 5 km)
Location:
Kaposvár, Lake Deseda, Toponar Beach. GPS (46.396562, 17.822165).
Route:
Swimming in Deseda Lake 1 round.
Cycling on the roads beside Lake Deseda, 2x10 km round on closed roads.
Kayak: on Deseda Lake, 2 rounds.
Running on the lakeside bicycle trail on a 3x1.66 km rounds.
Time limit:
3 hours. (swimming: 0.5 hours; end of bicycle: 1.5 hours)
Rules
The rules of the World Quadrathlon Federation (WQF) are the basis for this event and each athlete is required to know the rules and abide by them.
Rules are presented on following link: http://wqf.quadrathlon.com/rules/
Participants:
Individual competition: Women and men over the age of 14,
2-4-person race: those women and men over 10 years old, who declare that they are (with their parents confirmed) that they are well prepared and able to complete the journey and that the entry fee will be paid within the specified deadline.
By paying the entry fee, you accept the rules of the competition.
In the relay tournament, you can only switch to a DEPO site. A competitor can only be a member of one relay. An individual competitor can also be a relay member, as a first person.
Categories:
Absolute a woman, man
U17 woman, man
U19 woman, man
U23 woman, man
Elite (24-39) woman, man
Master1 (40-49) female, male
Master2 (50-59) is a woman, man
Master3 (60-69) female, male
Senior (over 70) woman, man
Ladies and Men Relays (mixed teams are classified as men)
Preregistration:
By June 10, 2018 (based on the number of people that are emerging to date, we decide whether to accept a later entry and how much will be the entry fee)
Registration fees individual competition:
U17, U19, Senior category
April: 6,000 HUF / person
May 9,000 HUF / person
June 12,000 HUF / person
Elite, Master category
April 12,000 HUF / person
May 15,000 HUF / person
June 18,000 HUF / person
Registration fees Relays:
April 5,000 HUF / person
May 8,000 HUF / person
June 11,000 HUF / person
Registration:
Only on the internet, on www.extremetour.hu, as described there.
On-Site Entry:
If someone registers only at the day of the race, + 6,000 HUF / person will be charged!
In this case, the entry does not contain any gift items.
Award:
A unique T-shirt for all competitors.
By category medals and gifts by the sponsors.
Others:
Kayaks can be rented out:
In the case of race kayaks, Ferenc Csima (csimaferenc72@gmail.com, +36 302355131), Sea and surfski kayaks, for Ádám Schmuck (schmuck.adam@gmail.com, +36 309500655)!
If someone is registering only on the race day, there are very limited opportunities to hire kayaks.
You can also enjoy and try Sunday's eXtremeMan113 triathlon (1.9 km swimming, 90 km of biking, 21.1 km running) in single or in relay.
Near the racecourse, we provide a free campsite. Toilet, washbasin, cold water shower.
© 1989 - 2019 eXtremeMan
Designed by Szliczki József